Shooting Coach Online
Live Online Training FoR Rifle shooters
What is Live Online Training?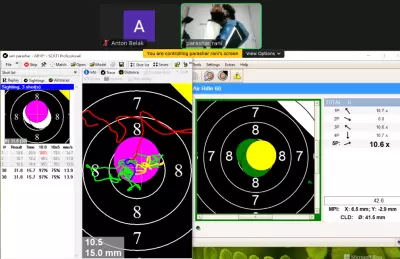 The coaches in our Shooting Coach Online project trains shooters through the use of Internet programs. Live online training is a relatively new training method. Already 15 years ago we made via video calls regular discussions about training with our shooters abroad. In 2011 I did via Skype training with a coach and his shooters from Bangladesh. During the last 4 years, we have developed modern procedures with which we can find out quickly and easily where the shooters have problems and how we can help them. Every at least a little talented shooter makes excellent progress.
Sports target for our athletes
We have a big goal.
We want to help our students raise their level so that at least two of them travel to the Olympics in Paris to win an Olympic medal and the final for their country.
To do this, we have to find these talents also in your country and get financial support for them.
News
Story
I am Anton Belak. I have been serving shooting sports for 48 years. I have been working as a professional coach for over 35 years. I was born in a small town and I came far from the shooting on the meadow to the national team. Although I was successful as a Junior except for the title of the Master of Czechoslovakia, I did not really know enough to evolve efficiently. When I was 19, I got an invitation to an army club where I could become a professional athlete. At the same time, I received an admission commitment at the university where I could learn a lot of knowledge in order to be a successful coach in the future.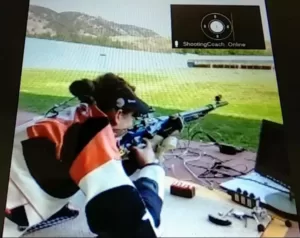 I decided to study with the idea of ​​continuing to be an amateur. Unfortunately, my performance has subsided so much that I was fired from the national team and thus lost my equipment and weapons. As a student, I did not have the resources to buy high-quality equipment and weapons, and the return to the level 5 years ago did not make sense to me. I was totally destroyed on the ground and very unhappy in a deep depression because I lost what I really loved. One year before the study end I got the offer from my coach to work in a top sports center. Although I was still very disappointed with the end of my shooting career, I decided to accept the offer.
How I found the right shooting technique?
As a shooter, I wanted to know precisely how to reach top performances. Throughout my studies in anatomy, biomechanics, psychology, and sports didactics, I thought about where I had made a mistake as an athlete. Later as a trainer, I devoted all my energy to finding the correct training methods and procedures. I spent all day training either alone or with athletes. I took the opportunity to live in a simple room right on the shooting range to avoid wasting time traveling. I didn't sleep for many nights and tormented my brain threads by looking for the correct shooting technique. I made progress as a coach, but still, the proper solutions did not come.
I even started doing autohypnosis and meditation because I felt that the veil of everyday thinking obscured the solutions. Through years of this endeavor and many incredible transcendental experiences, I have learned to turn off the brain and perceive something distant and incomprehensible to the ordinary senses. And suddenly, during one meditation, it came—light at the end of the tunnel. Using the information that I received, everything started to make sense. Although I had to wait patiently for some real success for a few more years, I followed the ideas I captured in the meditations. I develop them, and I still accept new ones. It is simple. Turn off the brain, turn off the ego and perceive. Solution and help will come. You just have to be patient and quiet. The idea of live online training came the same way.
Successes
Our athletes have achieved fantastic successes and results. They won the title of the ISSF shooting of the year three times and once the ISSF Golden Target. They gained medals at the Olympic Games and gained ten times the world championship title. For example, they set up new world records, many other medals won at World Championships, Europe and Asia Championships, World Cups, WC Finals, etc.

In 3×40, for example, reached 1185 points and often 1180 and more, even in the most important competitions. There are 633.2 points in the AR and some shooters already as juniors have many results over 630. In the prone, Gönci brought the first Olympic medal for Slovakia. So far, at the historic table of the ISSF is in place 2 in 3×40 and in 4th place in the air rifle. There are more of our shooters who have become legends, such as Marcel Burge and others.

Who are our students?
Currently, we have, for example, athletes from Mexico, the USA, India, Germany, and other countries. Our current online athletes achieve very nice results. In 3×40, for example, 1176 points and often 1170 and more. In AR, there are 627.8 points but soon will come result over 630. There are 625 points in prone.
Almost all our athletes we know just over the Internet. Nevertheless, their performance is growing very fast and they will be successful. For example, they set up a new state record, gained several medals at the German championships, etc.
How it works?
The training courses take place in the form of a video call over the Internet. On our monitors, we see the shooter so clearly as we sit right behind him. We use 1, two, or more mobile phones and computers according to the conditions available to the shooter.
The shooters must meet the following technical conditions:
Technical specifications:
Connection software
E-mail
One of the next programs: WhatsApp, Telegram, Skype, Signal or Viber
The Zoom Cloud app is installed on the phone.
Technical requirements:
WiFi or 4G (5g) mobile internet connection
mobile
Mobile phone holder with tripod (height adjustable up to 150 cm or more)
Bluetooth headphones
SCATT system with the computer (optional)
Paper target (minimum requirement)
Electronic target (optional)
Environmental requirements:
Shooting range or
Room suitable for training with SCATT or
Room suitable for dry training
What we do for your development?
We are looking for young talents
The young talents are sought
We have prepared a wonderful course for young talents.
We bring beginners to the experienced
Make fun with proper shooting technique
We have prepared courses for shooters with different skills. Programs – easy, regular, and experienced.
With us to the world-Class
Would you like to be a world-class shooter?
Do you have a great goal, but is needed help with your performance increase? For example, would you like to achieve the results of 630+ or 1180+ points?
Testimonials
Bill Mach, Michigan, USA
Coach
Online training – for us it was wonderful because it allowed us to get a lot of the detailed work that we didn't know about.
Raymond Kane, Ireland
Coach, for many years national team member
Now I realized there's another way, there's the Anton way. I can actually create stability even at my age and no back pain whatsoever. It's amazing.
We are a group of coaches who love our wonderful sport!
Our goal is to protect with the rich experience that we have collected as shooters, but also as coaches for world-class athletes in many European and Asia countries.
Our programs for young and less experienced shooters:
Under 14 Years
€129.00 (150€)
1 Training 32 €
Easy
€175.00
1 training – 44€
Our programs for experienced and world-class shooters:
Regular
€280.00
1 hour – 56€
Advantage
€400.00
1 hour – 50€
World-Class/VIP
€650.00
Monthly /1 Hour 43€
Questions?